St John the Baptist Catholic Primary School is conscientiously promoting school community awareness on caring for the environment and reducing the amount of waste being sent to landfill. We have a strong focus on Sustainability.
All children and families are encouraged to consider the impact they have on energy consumption and waste.
St John the Baptist supports a sustainable future by:
Sustainable Uniform Shop: We have partnered with Worn Up to reduce used textiles going to landfill and also sell second-hand uniforms onsite.
Electronic Newsletters: Parents receive the school's newsletter via email.
Electronic Forms and Permission Notes: All forms and permission notes are available via the Compass Parent Portal.
Parent Calendar and Events: All school and class events throughout the year are available to all parents through the school's Compass Parent Portal which is downloaded onto parents' phones and electronic devices (and desktop). All parents receive their own personal login upon starting at SJB.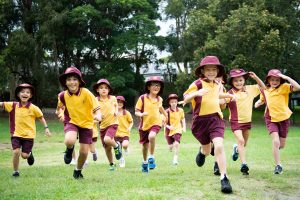 St John the Baptist encourages all parents/carers to support their child's 'go green' activities and future school initiatives and, in doing so, learn to care for the environment as part of everyday life.