"With a commitment to putting students' wellbeing and academic growth at the centre, Mrs van der Merwe aims to have happy, challenged learners who thrive every day at school"
---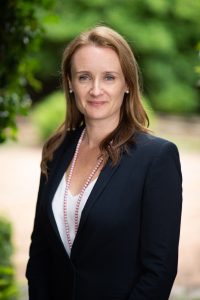 Welcome to St John the Baptist, a diverse and high-achieving Catholic primary school with 100 years of rich heritage.  It is a privilege to lead a nurturing and inclusive school committed to offering our students an education inspired by the latest pedagogical approaches.
St John the Baptist learners are provided with a challenging, yet inclusive curriculum designed to enable each student to thrive. Our motto "Prepare the Way" permeates through every aspect of our school as we develop well-rounded, creative thinkers with the skills to adapt to an ever-changing future. We place an emphasis on building a strong connection with our students so they feel safe and respected in our care at St John the Baptist. 
Our team of dedicated, professional educators strive to provide opportunities both in and out of the classroom to nurture each child's personal strengths, talents, and independent thought. We aim to instil in our students- courage, compassion and humility, and the capacity and capability to positively transform the world in which they live.
Our Catholic foundation underpins our approach to developing the whole child; academically, socially, spiritually, physically, and emotionally by providing a learning experience grounded in community and social justice with a strong global perspective.
When you join the St John the Baptist, every member of the family is supported. This community pastorally supports each other through every facet of life.  
Here at St John the Baptist, we are flexible, agile, and responsive, prioritising individualised curriculum, student wellbeing, and your family needs.
We invite you to experience the difference in education that St John the Baptist can offer your family. 
Mrs Alicia van der Merwe
Principal
Discover for yourself by booking a Private Tour or by viewing our Virtual School Tour.  For more information on our enrolment process, please click here or call us on 02 9939 6699. Or follow us on Facebook and Instagram to see our school in action!
Online Enrolment Enquiry Form